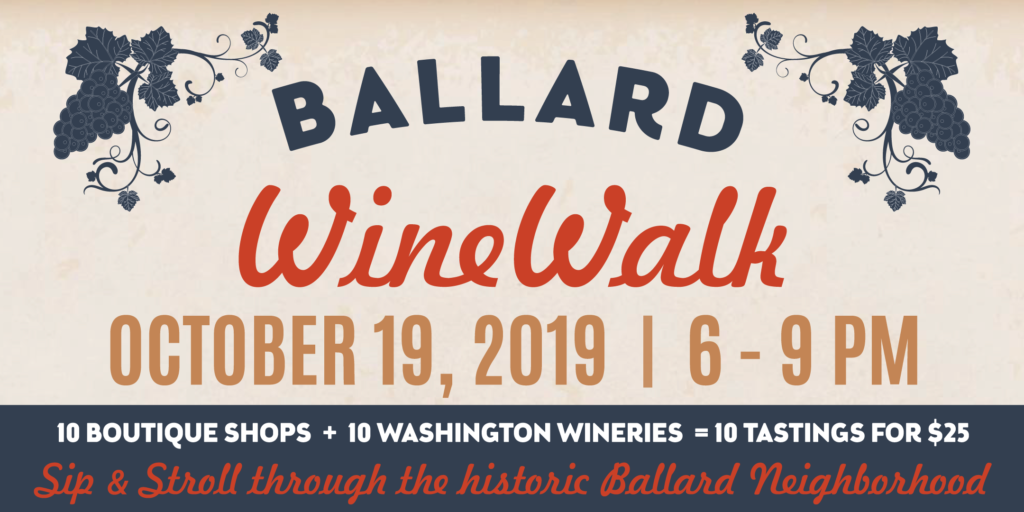 It was a fantastic evening! Thank you so much to everyone who came out to our inaugural Wine Walk. We had so much fun with you that another one is in the works. Check back for details or be sure to follow us on social media @visitballard.

Visit Ballard has paired ten Washington wineries with ten Ballard neighborhood boutique shops for the first annual Visit Ballard Ballard Wine Walk on Saturday, October 19, 2019 from 6:00 p.m. to 9:00 p.m.
Each of the ten shops will offer a unique wine tasting experience featuring one of ten participating Washington wineries. The Columbia Bank NeighborHub will serve as event headquarters where participants will check in, receive a wrist band, map, and tasting tickets. A commemorative Visit Ballard Wine Walk govino® glass will be available for advanced purchase online or at the event.
~ 10 tasting tickets available for $25 (sold out)
~ An additional three tasting tickets available for $10 (available for ticket holders at check in)
~ Ballard Wine Walk commemorative govino® tasting glass available to ticket holders at the door for $5 or bring your own tasting glass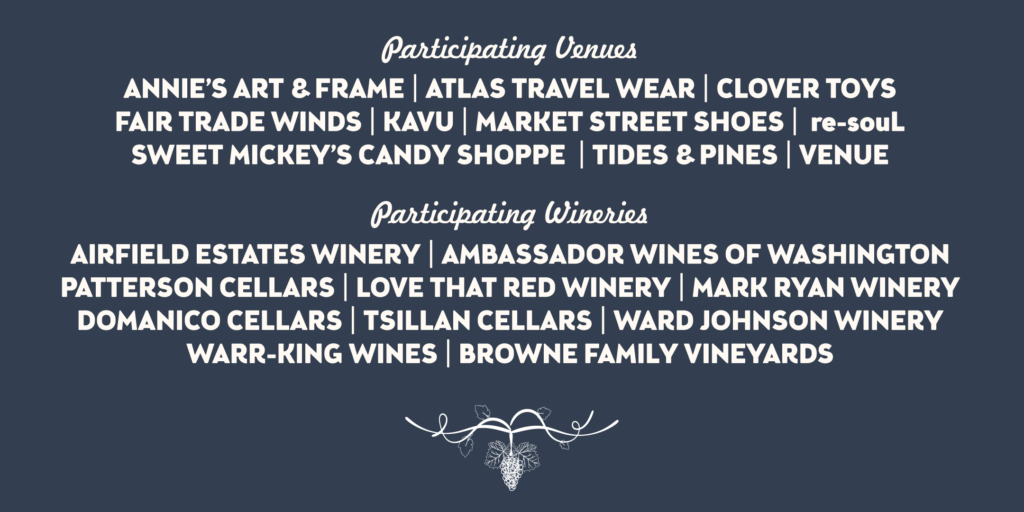 Event participants will have an opportunity to purchase bottles at a special discounted rate at the Columbia Bank NeighborHub from 7:30 p.m. until 10 p.m. the evening of the event. All varieties of wines served during the event will be available for purchase.
The ten participating Ballard shops are open to the general public of all ages during the wine walk and those under 21 may attend the tasting areas. However, participants must be 21 to purchase wine tasting glasses and wristbands. Participants must bring their own tasting glasses to the event or purchase a commemorative govino® glass online or at check in. Tasting areas, inside the Ballard shops, are unrestricted but wine is not permitted outside of designated areas. The tasting is available only to those with valid event bracelets and tickets. Participants must bring valid ID to check in in order to verify they are 21 years or older.
CHEERS!