It's beginning to look a lot like Holidays in Ballard and we have so many great events you may never want to leave the neighborhood!
Experience all the hygge by celebrating the Holidays in Ballard with us.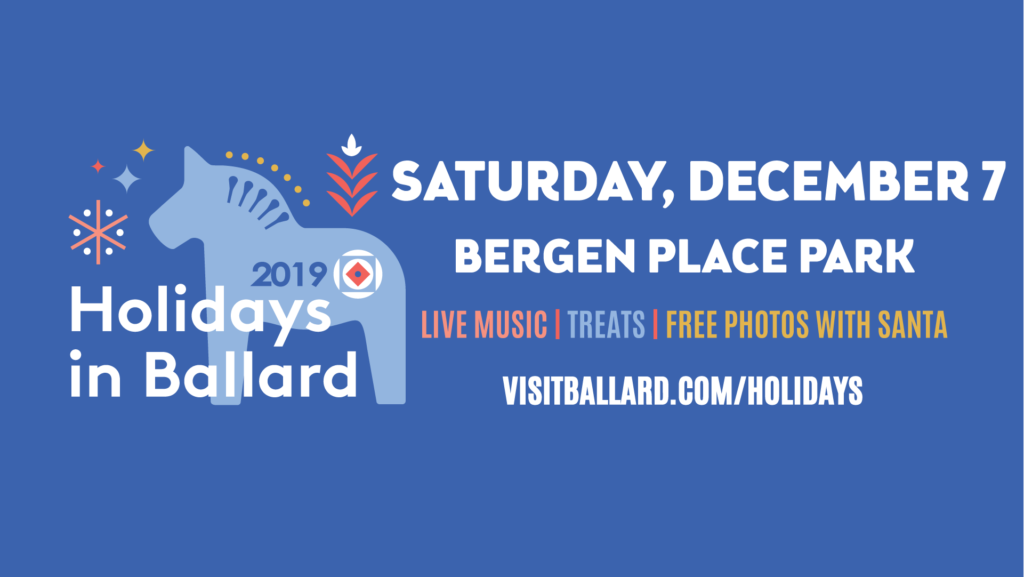 Starting on November 1st, follow along the Tomte Trail through the shops of Ballard in search of the sneaky little tomten hiding in different locations throughout the neighborhood. Be sure to look high and low inside the shops of Ballard during the month of November to find the tiny Tomte. Receive a stamp or signature from each shop where you find the Jul-Tomte. All Tomte Trail passport holders receive a prize at HolidayFest but get 10 or more stamps and be entered win the Grand Prize: A Family Plus National Nordic Museum Membership with reciprocal benefits at over 850 museums in North America!
Bring your TOMTE TRAIL passport to Ballard HolidayFest in Bergen Place Park on Saturday, December 7th, 2-5 PM, to collect your prize – the drawing and winner will be announced at HolidayFest!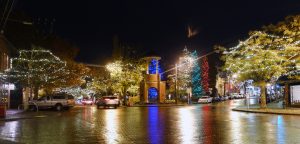 It's beginning to look a lot like … Holidays in Ballard with holiday lights making the tree canopies along Market Street and Ballard Avenue merry and bright! Enjoy the twinkling lights every evening from October 31st until shortly after the second Saturday Ballard Artwalk in February.
Take in the arts and enjoy the last two Ballard ArtWalk events of 2019. Enjoy a stroll through the neighborhood, refreshments and take advantage of a little shopping if you like at this free community event produced by the Ballard Alliance on November 9th and December 14th.
The new National Nordic Museum is continuing the tradition of Julefest. This family friendly weekend event features: a visit from Santa (he really loves coming to Ballard), arts and crafts shop featuring more than 40 vendors, Juletide cocktail in the Valhalla Beer Garden, authentic Nordic treats and live music and dancing! Celebrate this annual event on November 23 and 24th. On Saturday, November 23rd keep the festivities rolling up at Skål Beer Hall. Julefest After Dark will offer drink specials, songs and raffle prizes from 5 – 9 p.m.
Ballard Gives Back is Ballard's version of Black Friday. More than 30 Ballard area businesses are putting a generous spin on Black Friday shopping by participating in Ballard Gives Back on Friday, November 29, 2019.  Ballard Gives Back is a program created by local merchants to encourage socially-conscience holiday shopping in Ballard by donating a portion of their proceeds to a selected charity. Match up your favorite stores in Ballard with your favorite charity and shop small this holiday season.
Speaking of shopping small, the day after Black Friday is Small Business Saturday. Skip the malls on Saturday, November 30th and do your holiday gift shopping at one of many Ballard boutiques and stores. You will find one-of-a-kind items, enjoy the charm of the neighborhood and keep your hard earned dollars in the community you love to call home.
At Ballard HolidayFest enjoy live music by the Smiling Scandinavians, complimentary photos with Santa, popcorn, treats, hot chocolate and cider and find out the winners of the Tomte Trail adventure at this free event celebrating Holidays in Ballard. Bring your Tomte Trail passports and holiday spirit to Bergen Place Park on DECEMBER 7th from 2 p.m. until 5 p.m., for some festive fun in the heart of Ballard!