Enjoy live music, complimentary photos with Santa, popcorn, treats, hot chocolate and cider and find out the winners of the Tomte Trail adventure at this free event celebrating Holidays in Ballard.
On SATURDAY, DECEMBER 7th from 2 p.m. until 5 p.m., bring the whole family for some festive fun in the heart of Ballard at Bergen Place Park!
FREE PHOTOS WITH SANTA 2:00 – 4:30 p.m.
TREE LIGHTING AND SING-ALONG 4:45 p.m.
FREE HOT CHOCOLATE, APPLE CIDER & COOKIES!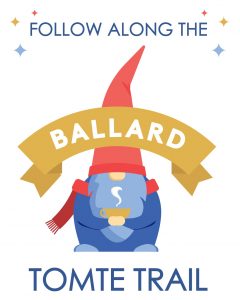 #visitballard #tomtetrail #BallardHolidayFest
Download Printable Tomte Trail Passport

Follow us along the trail of the Jul-Tomte as he searches Ballard for his beloved bowl of buttered rice pudding. Be sure to look high and low inside the shops of Ballard during the month of November to find the tiny Tomte. Receive a stamp or signature from each shop where you find the Jul-Tomte.
All Tomte Trail passport holders receive a prize at HolidayFest but get 10 or more stamps and be entered win the Grand Prize:
A Family Plus National Nordic Museum Membership with reciprocal benefits at over 850 museums in North America!
Bring your TOMTE TRAIL passport to
Ballard HolidayFest in Bergen Place Park
on Saturday, December 7th, 2-5 PM,
to collect your prize!
Here is a list of participating locations to start planning your journey along the Tomte Trail: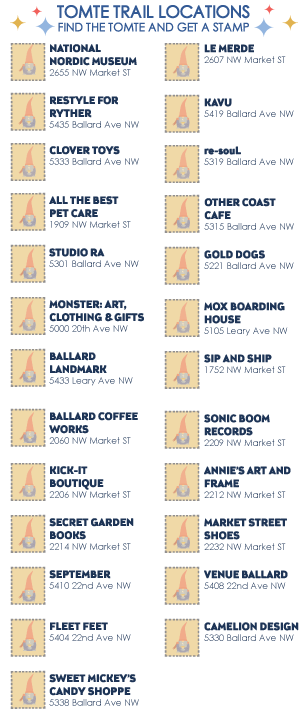 If you cannot make it to Ballard HolidayFest turn in your passport to Sweet Mickey's by December 6th at 9 p.m.
Special thanks to the Ballard Alliance and Ballard SeafoodFest for making this community event possible and to our partners at Market Street Shoes, Annie's Art & Frame, Mox Boarding House, National Nordic Museum, Sweet Mickey's Candy Shoppe, Other Coast Cafe, Seattle Parks and Recreation, Holiday Spirit Lighting, New Seasons Market, Dozfy and Hattie's Hat/Sunset Tavern!