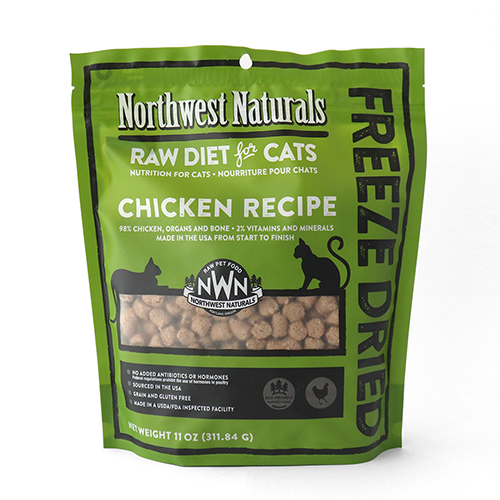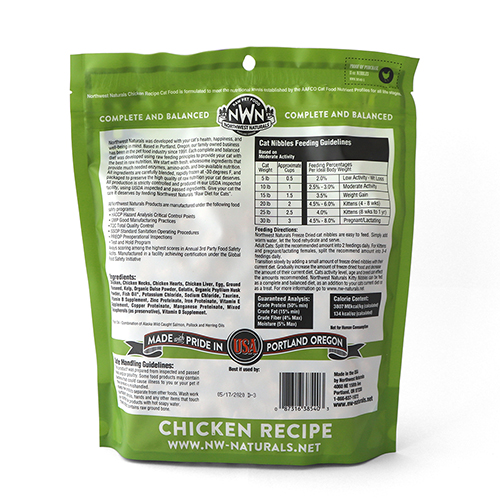 All The Best Pet Care
Northwest Naturals Freeze Dried Chicken Cat Food
Northwest Naturals Freeze Dried Diets are the same formulas as their Raw Frozen Diets, in freeze-dried form.
Freeze Dried Diets in the perfect cat size nibbles
Just pour and feed straight from the bag
Always make sure water is available with any freeze fried foods
Shelf life for Freeze Dried is 2 years unopened – 1-2 mos. if stored properly after opening
Complete and Balanced Diets can also be used for treats or as a topper
All poultry products are HPP'd for product and food handling safety
Highest quality USDA inspected and passed muscle and organ meats
Chicken and Turkey – Sourced in the USA
No Added Hormones and Antibiotic Free
Chicken, Chicken Necks, Chicken Hearts, Chicken Liver, Egg, Ground Flaxseed, Kelp, Organic Dulse Powder, Gelatin, Organic Psyllium Husk Powder, Fish Oil, Potassium Chloride, Sodium Chloride, Taurine, Vitamin B Supplement, Zinc Proteinate, Iron Proteinate, Vitamin E Supplement, Copper Proteinate, Manganese Proteinate, Mixed Tocopherols (as preservative), Vitamin D Supplement.
11oz bag
$23.99*
*Shipping and Taxes may be added during checkout