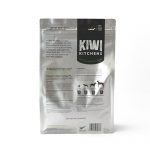 All The Best Pet Care
Kiwi Kitchens Air Dried Lamb Dog Food
Kiwi Kitchens Gently Air-Dried Dog Food is a single protein range with 93% meat sourced entirely from New Zealand. To ensure the food meets there high nutritional standards and is complete and balanced, they add a small portion of fish oil, sunflower oil, vitamins, and minerals.
Naturally rich in chondroitin and glucosamine
Great source of omega-3s
The gently Air-Dried Food can be used as a full meal or as a meal mixer
Ingredients: Lamb, Lamb Liver, Lamb Lung, Peas, Vegetable Glycerin, Flaxseed, Fish Oil, Sunflower Oil, Vitamins and Minerals.
$21.99 – $72.99*
*Shipping and Taxes may be added during checkout