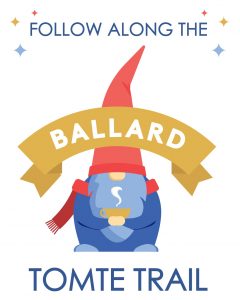 #visitballard #tomtetrail #BallardHolidayFest
Download Printable Tomte Trail Passport

The adventure continues – Follow us along the trail of the Jul-Tomte. Get your Tomte Trail passport (download here or copies are available at participating locations) and find the sneaky fellow inside 26 Ballard businesses.
Once you find the little tomte inside, kindly ask an employee for a stamp on the box next to the respective location. Continue on the Tomte Trail and gather as many stamps as possible. Then bring your passport, with at least 10 location numbers filled in, to the dropbox at Ballard HolidayFest from 2 – 5 PM in Marvin's Garden Park on December 4th
to be entered in the Grand Prize drawing.
Every participant who turns in a passport at HolidayFest will receive a prize and those with 10 or more stamps will be entered in a drawing for a chance to win a Family Membership to the National Nordic Museum! (Be sure to fill out contact info on your passport so we can let you know if you won – you do not have to be present at the drawing to win)
Good luck, support local, have fun and happy holidays!
Here is a list of participating locations to start planning your journey along the 2021 Ballard Tomte Trail: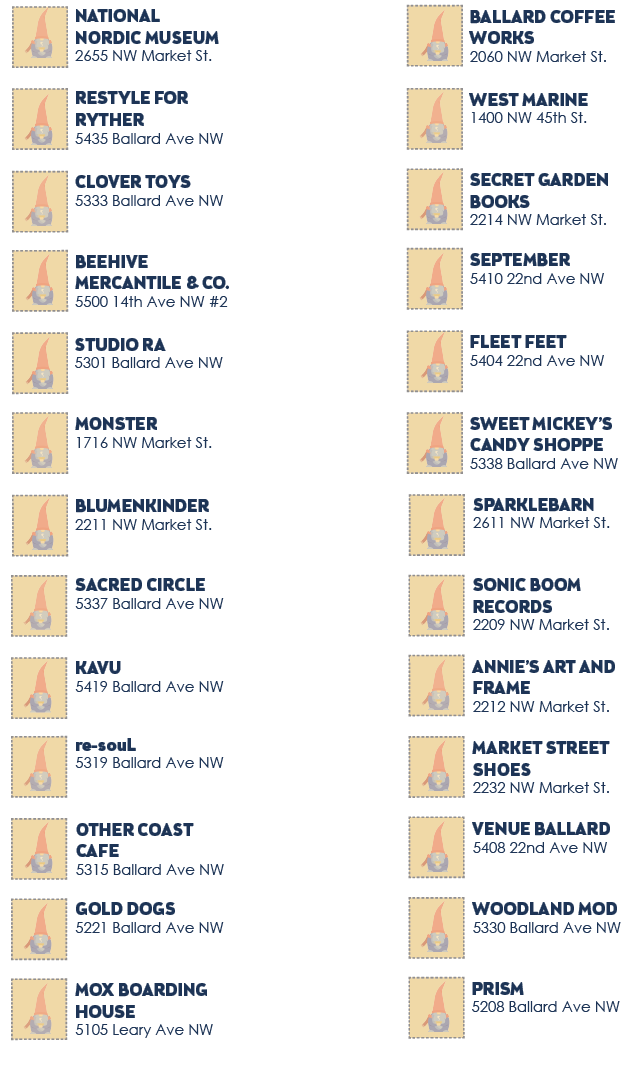 The Alliance Elves are hard at work preparing for the 2021 Ballard HolidayFest! Bring your family and friends to Marvin's Garden Park on Saturday, December 4 from 2 – 5 p.m. and enjoy free photos with Santa, treats and popcorn, tree lighting, music and merriment!