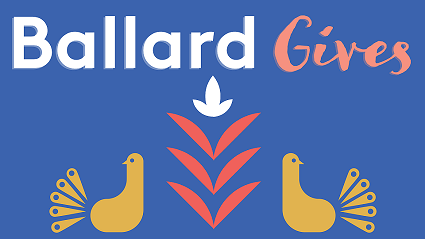 A more socially conscious effort is planned for our community on Black Friday, as participating Ballard businesses are donating a portion of their proceeds to a local non-profit for Ballard Gives Back.
Twenty Ballard businesses are putting a generous spin on Black Friday by participating in the Ballard Gives Back program.
Ballard's business owners are encouraging shoppers to skip the crowds and shop locally in Ballard for a good cause on November 26, 2021, Black Friday.
Many businesses are extending their donations throughout the entire holiday weekend. Here is a list of participating
businesses and the charity they are donating to when you shop at their location on Black Friday:
STUDIO RA Giving to YOUTHCARE
COUCH SEATTLE Giving to MARY'S PLACE
MARKET STREET SHOES Giving to LABATEYAH BRIDGE HOUSING
SECRET GARDEN BOOKS Giving to PAGE AHEAD
SWEET MICKEY'S Giving to SAFE CROSSINGS FOUNDATION
THE BEEHIVE MERCANTILE & CO Giving to BALLARD FOOD BANK
ANNIE'S ART & FRAME Giving to TREEHOUSE
BALLARD REUSE Giving to BALLARD FOOD BANK
MONSTER Giving to THE PEOPLE'S HARM REDUCTION ALLIANCE
FLEET FEET Giving to WASHINGTON TRAILS ASSOCIATION
barre3 BALLARD Giving to REAL RENT DUWAMISH
OTHER COAST CAFE Giving to THE BAIL PROJECT
ASCENT OUTDOORS Giving to OUTDOORS FOR ALL
HORSESHOE BOUTIQUE Giving to BALLARD FOOD BANK
FAIR TRADE WINDS Giving to REFUGEE WOMEN'S ALLIANCE (ReWA)
CATHEDRAL Giving to TWO FEET PROJECT
BALLARD STATION Giving to MOMENTUM LEARNERS
BEGIN Giving to BALLARD FOOD BANK
CLOVER TOYS Giving to TREEHOUSE
re-souL Giving to YOUTHCARE
The program began in 2013 and continues to grow each year as more businesses flock to Ballard's bustling shopping and dining district.
"In addition to the 'giving' portion of the post-Thanksgiving weekend, the Ballard merchant community is promoting a message to shop local and shop small. When small businesses thrive, communities thrive. When people support their local merchants and small businesses, more of their money stays in the community," said Legh Burns, co-owner of re-souL.