About
The Ballard Alliance Public Art Committee (BAPAC), a committee of the Ballard Alliance, formed in 2018 from the desire to incorporate more public art throughout the streets of Ballard. The BAPAC includes local artisans, residents, and people who work in the area – all with a passion for public art. The committee is dedicated to facilitating public art projects in the Ballard neighborhood while ensuring that the needs and values of the community are upheld throughout the process of these projects.
The BAPAC strongly believes that incorporating art into the public realm has numerous benefits. Beyond adding an element of beautification to the street, it develops and promotes neighborhood character, while fostering a sense of community identity. Public art turns ordinary spaces into recognizable landmarks, promotes community dialogue and most importantly, it is accessible to everyone. The Ballard Alliance Public Art Committee is able to use public art projects to display Ballard's unique spirit and to foster the changes that the community desires to see.
From eyesores to beloved landmarks, the Ballard Alliance Art Committee is committed to creating more aesthetically enhanced spaces throughout the Ballard neighborhood.
Committee Members
Katie Kulseth
Kat Strasle
Leslie Anderson
Andrew Miller
Kristie Kisbye
Caroline Kimball
Kiana Ballo
Devin Reynolds
Carolyn Wassmer
Dan Sedlacek
Maryam Rouhfar
Nat Thornton
Maria Acosta
Recent Projects
Video created by Dozfy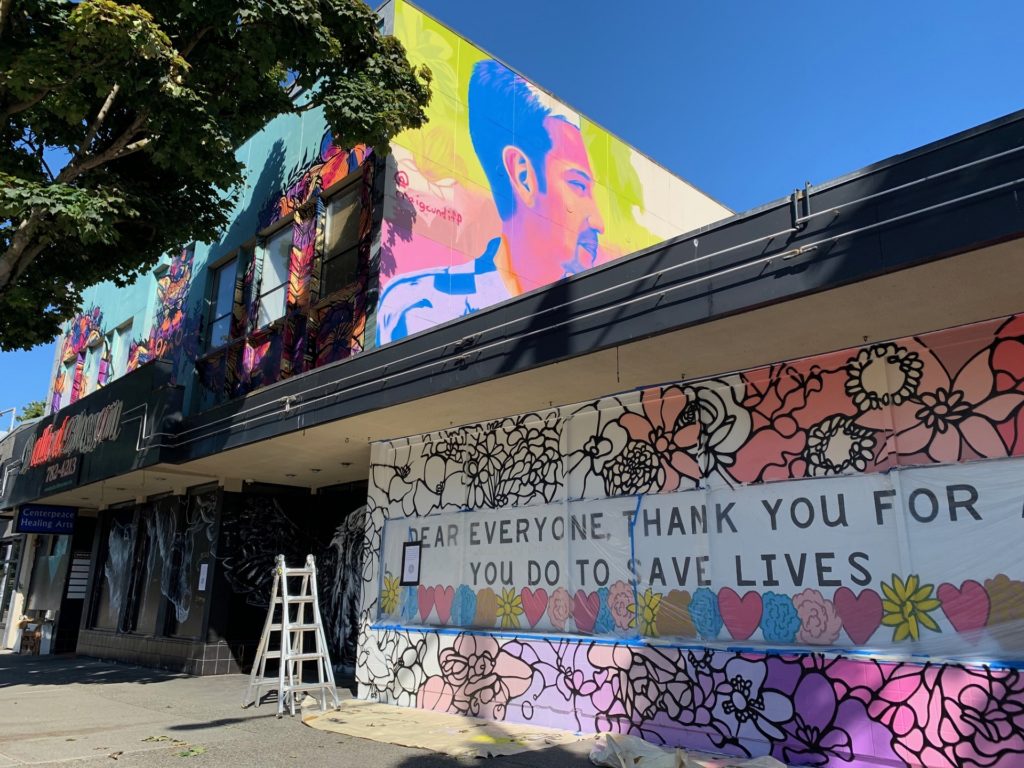 BUILDING MURAL AT 1766 NW MARKET STREET: The Ballard Alliance and the Ballard Public Art Committee are embarking on a large-scale mural that will cover two sides of a two-story building on NW Market Street, right in the heart of Ballard.
The Ballard Alliance and Ballard Public Art Committee have selected five artists to provide murals on the vacant Ballard Blossom building. The artists are Craig Cundiff, Josie Rice, Juan Angel Roman, Patrick Nguyen (Dozfy) and Victor Melendez. Endeavoring on a project this scale requires a community-driven effort.

We are so grateful to our community partners, CenturyLink for helping to support this project. And to NOVO Painting and Property Services for donating paint to our artists, the property management company for helping us execute the plan efficiently and safely, Annie's Art and Frame for contributing 100 cans of paint for the artists to use in their murals and to Heritage Distilling Co. for the use of their facilities. Work began on August 22, 2020 and the final project was completed in September 2020.
KIRO7 News covered this story on 8.6.2020 and they have some great aerial footage of the building's murals.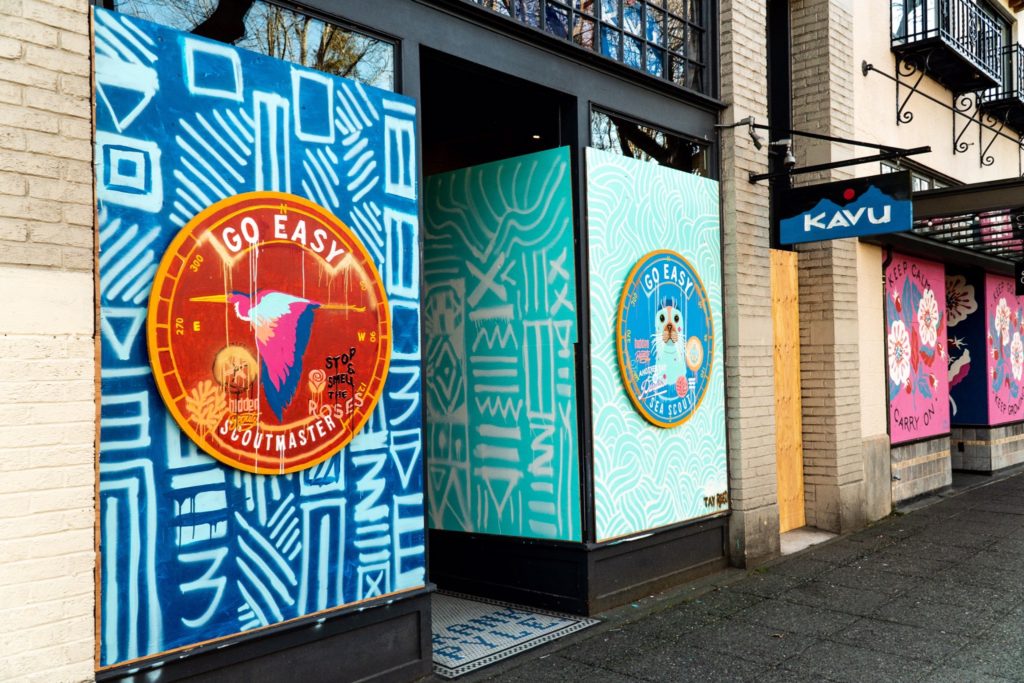 BALLARD STOREFRONT MURAL PROJECT: The Ballard Alliance in partnership with the Ballard Public Art Committee has produced the Storefront Mural project to help prevent vandalism and send a positive message to the community during the COVID-19 mandated business closures. Painting supplies for this project were generously donated by Novo Painting and Property Services.
UTILITY BOX BEAUTIFICATION: The three featured artists are Sarah Simon, Sarah Robbins and Stevie Shao. Sarah Simon is the first place winner of the Phase 1 public voting contest and a local Seattle artist who specialized in watercolor painting. Stevie is a Ballard native who graduated from Ballard High in 2015 and graduated from Seattle Pacific University this year. Stevie placed second in the public vote and specializes in digital illustration. Sarah Robbins' designs were selected for the two boxes in phase 2 of the project. Ms. Robbins is an illustrator, designer and muralist in Seattle.
The project has been completed. All seven designs can be seen throughout the core of Ballard along NW Market Street, Ballard Commons Park and near the QFC on 24th Ave NW.
MARITIME MURAL PROJECT: Ballard/Maritime themed mural sponsored by Western Towboat Company.
Location: AMLI 24 (concrete wall next to gas station) 2428 NW Market Street
Artist: Gretchen Leggitt
Cost: $2,000 (sweetheart deal)
Funding Source: Western Towboat (private source)
Timeline: Project started in October 2018. Mural completed September 2019
Paint Supplies: 10 quarts of paint donated by Miller Paint
Size: Approximately 10′ x 30′
Proposed Projects (not funded or approved)
Murals – TBD